China SFDA publishes the second batch of the Inventory of Existing Cosmetic Ingredient in China (IECIC) for consultations.
1 July 2012, China SFDA published the second batch of the Inventory of Existing Cosmetic Ingredient in China (IECIC) for public consultations. The deadline for comments is 15 July 2012. There are 673 ingredients in the second batch of IECIC (2012). The first batch of IECSC (2012) was revised on 1 May 2012 and includes 1674 cosmetic ingredients.
The different between IECIC 2003 and IECIC 2012 is listed as follows:
IECIC 2003
IECIC 2012

3265 cosmetic ingredients in total.
2156 general ingredients;
546 specific cosmetic ingredients;
563 natural ingredients including traditional Chinese medicine;
Includes banned ingredients.
Only ingredient names are given.

1674 cosmetic ingredients(First Batch)+ 637 ingredients(Second Batch);
More batches will be published;
Has removed banned ingredients;
Has indicated both the name and the maximum allowable dose level;
Download
What is New!
We can help you search both IECIC(2003) & IECIC(2012 draft), determine if an ingredient is new or not and identifiy maximum allowable use level if there is any restriction in IECIC & hygienic standard for cosmetics(2007) in China. This service costs RMB 100 - RMB 300 per ingredient depending on the number of cosmetic ingredients to be searched. Please note that the first ingredient search is free of charge. You can also request a consolidated list of IECIC(2012 draft & three batches) free of charge by contacting april.guo@cirs-reach.com
Background Information
According to the hygiene supervision over cosmetics (1990), the use of new ingredient for cosmetics production must be approved first. The rules for the application of administrative licenses for cosmetics (2009) have also clearly indicated that the use of new ingredient in cosmetics in China must be licensed.
An ingredient will be regarded as "used" if it meets any one of the three following criteria:
The ingredient is included in the Inventory of Existing Cosmetic Ingredients in China (IECIC 2003 or 2012) and is not a banned substance; or
The ingredient has been used in a licensed special use cosmetic product; or
The ingredient is part of a plant that has been approved as cosmetic ingredient.
More info about registration of a new cosmetic ingredient with China SFDA can be found here.
Reference
http://www.sda.gov.cn/WS01/CL0781/73007.html
Contact Us
Ms April Guo, CIRS China

Specialized field: application for hygiene License, record-keeping certificate for imported cosmetics, safety evaluation of cosmetics and cosmetic ingredients, standard labelling for cosmetics, SDFA registration, CIQ label, etc.
Ms April Guo, China Office

11F Building 1, Dongguan Hi-Tech Park, 1288 Chunbo Road, Binjiang District, Hangzhou 310052, China

Tel: +86-571 8720 6555 | Fax: +86-571 8720 6533

Email: 

april.guo@cirs-reach.com
To follow more events, free regulatory updates and publications from CIRS, please subscribe our monthly newsletter: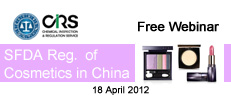 Related Topics