On December 31, 2014, GB 2760-2014 Usage of Food Additive was released. Compared with the old version (GB 2760-2011), GB 2760-2014 included the new food additives that were approved from 2011 to 2014. In terms of nutrition enhancers, their management belongs to GB 14880-2012, but the registration of new nutrition enhancers were still managed as new food additive.
How about the application and approval of NFAs in China since 2014? What about the situation of new nutrition enhancers after the release of GB 14880-2012?
1. Acceptance numbers of NFA in China
From 2014 to September 6, 2018, a total of 274 NFAs application are accepted by National Health Commission of the People's Republic of China (NHC, former NHFPC).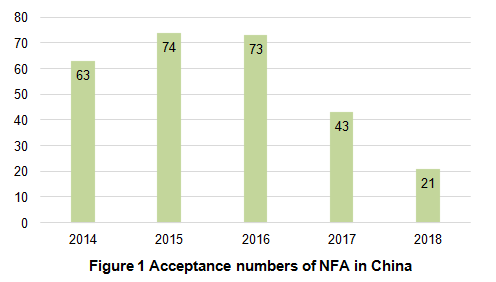 Remark: The data were collected from NHC.
2. Review and approval numbers of NFA in China
2.1 Food additive
From the release of GB 2760-2014 to September 6, 2018, a total of 127 NFAs have been approved by NHC, which include 44 new food additives and 83 food additives of which the usage scope or dosage are expanded. From figure 2, it can be found that the approved numbers of food additives with expanded scope or dosage came out top every year.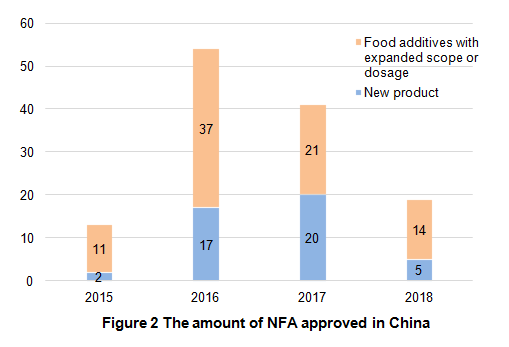 2.2 Nutrition enhancer
GB 14880-2012 Usage of Nutrition Enhancers was officially released on March 15, 2012. From the promulgation of GB 14880-2012 to September 6, 2018, 10 new nutrition enhancers and 17 nutrition enhancers with expanded scope and usage were successively announced by NHC. The approval status in each year was shown in figure 3.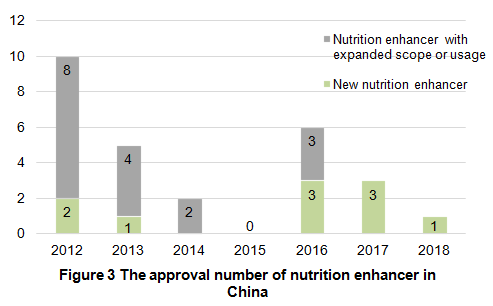 3. The requirements and trends on application and approval of NFA in China
On December 26, 2017, NHC issued a Notice on the revised Administrative Measures of New Food Additives. In addition to clarifying the decision organization and increasing relevant requirements of risk control, the Notice also required that it is not mandatory any longer to submit the method verification materials for new food additive registration.
At the same time, CFSA has released many drafts of new food additives for public comments, which shows that relevant evaluation work of new food additive registration will be carried out smoothly.
CIRS will keep focusing on the regulatory & laws, and approval status of new food additives in China.
For more information, please click New Food Additive Registration in China.
If you have any other needs or questions, please contact us at service@cirs-reach.com.