Current International Regulation of Chemical Substance Management Seminar was Successfully Held in Seoul
7 February 2018 original article from CIRS
On 1 February 2018, the Current International Regulations of Chemical Substance Management Seminar which is jointly hosted by CIRS and Chemtopia was successfully held. This Seminar mainly focused on hot chemical regulations in China, Europe and Japan and discussed the latest updates of chemical regulations in these countries. Delegates from over 80 enterprises attended the seminar and shared their opinions on how to better deal with the technical trade barriers
During the seminar, Ms. Jane Song from CIRS gave a speech on EU REACH and related case analysis. As the last registration deadline under EU REACH is approaching, she reminded that enterprises should prepare for REACH registration in advance. She also encouraged enterprises to be the Lead Registrant (LR) for substances without LR and described the advantages of being a LR.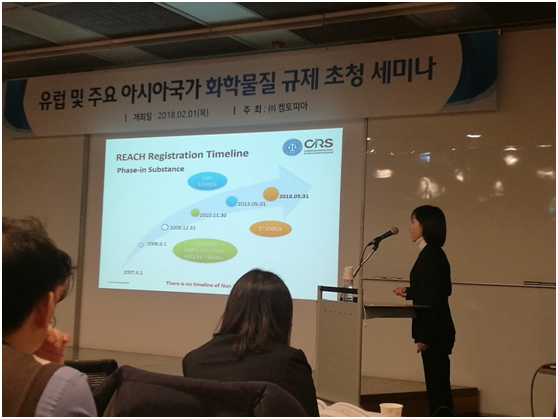 Ms. Fiona Lv also gave a speech on MEP Order 7th and the amendments to the guidance documents. She gave a detailed introduction on how the amended guidance documents will affect the MEP Order 7th and progress of MEP Order 7th.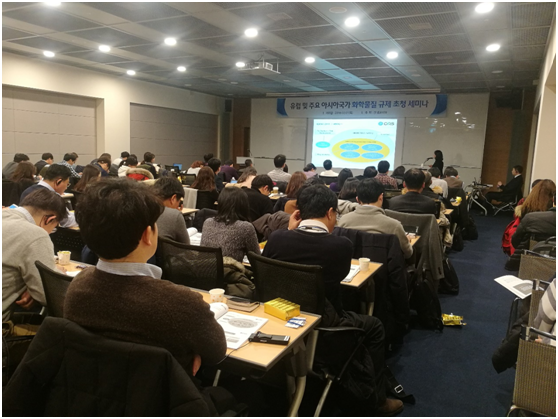 Besides, speakers from South Korea also discussed about the protection of CBI in MSDS, the joint-submission under K-REACH, and the current amendments to CCA.
Participants paid great attention to the supervision of chemicals in China. Many participants consulted the supervision of hazardous chemicals and new chemical substances in China and CIRS replied to their questions one by one. Besides, enterprises in South Korea were also interested in REACH registration.

For further information, please contact us at

service@cirs-reach.com

.